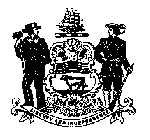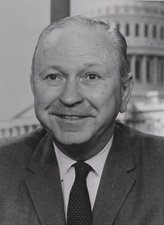 Past Delaware Governor, U.S. Representative & Senator


May 15, 1909 - March 26, 1993


( All web links on this page are in "Blue" )
James "Cale" Caleb Boggs was born in Cheswold, Kent County, De. on May 15, 1909, son of Edward Jefferson & Lettie Vaughn Boggs. He attended the rural public schools and also graduated from the University of Delaware in Newark in 1931. From there he attended and graduated from Georgetown University Law School, Washington, D.C., in 1937. He was admitted to the Delaware bar in 1938 and commenced practice in Dover, De.
"Cale" served during the Second World War in the United States Army from 1941-1946. During the war he obtained the rank of "Colonel" and was part of the 6th Armored Cavalry, 3rd Army under the command of General George Patton. For his service he was "awarded the Bronze Star, Legion of Merit and Croix de Guerre".
After the war he became the Deputy Judge of the Family Court of New Castle County, De. in 1946. He was elected as a Republican to the U.S. House of Representatives were he served from January 3, 1947 through January 3, 1953.
He was elected to the office of Governor of Delaware in 1952 and served two terms from January 20, 1953 through December 18, 1960 when he resigned to become a U.S. Senator. He served in the U.S. Senate from January 3, 1961 through to January 3, 1973.
After leaving office "Cale" practiced law in Wilmington, De. where is lived until his death on March 26, 1993. He was interred in Old Presbyterian Church Cemetery, Dover.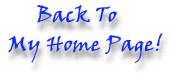 Email any questions or comments to:
Russ Pickett
Click Here
Last update: 7/15/2007