The below information and links were created due to my own personal love of history, both of Delaware and this wonderful country of ours, the United States of America. Check out those that interest you and please come back soon and check out this site as new articles will be included ( see the coming soon section below ). Should you have any questions, comments or suggestions please feel free to "e-mail" ( russpickde@comcast.net ) me. Thanks, and I hope you enjoy this site.
( Note: Lettering in "BLUE" below are clickable links! )

This Page Last Updated:

October 15, 2020

The below information on Delaware's Statewide Elected Offices was gathered, collected, and presented by your's truly starting in the " mid-1990's " and placed on my website " www.russpickett.com " ..... since that time I've continued to update the records ..... and the vast majority of my records and information have been used by others to create individual articles and webpages for these Delaware elected officials on:
" Wikipedia "
To say the least ..... I'm honored that they use this information !


The below links include detailed info on each and include ( when found ):
Photos, interesting facts, birth info, parents, marriages, children, education info,
other state offices served, death & burial info, homes in which they resided
and detailed election results !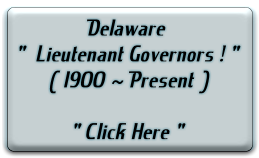 Note:
The office of Lieutenant Governor was not created until 1900 !



How Delaware Voted in Presidental Elections - Listing Still In Progress
Governors of Delaware - Quick Facts, Photos, and Links <!img src="../graphics/update.gif" alt="Updated Item" align="middle">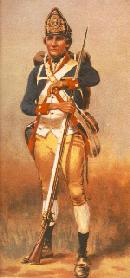 Delaware
Revolutionary
Soldier
Lt. Governors of Delaware - Quick Facts and Links
Continental Congress Members from Delaware - Quick Facts and Links
U.S. Senators of Delaware - Quick Facts and Links <!img src="../graphics/newclr.gif" alt="New Item" align="middle">
U.S. Representatives of Delaware - Quick Facts and Links <!img src="../graphics/newclr.gif" alt="New Item" align="middle">
Attorney General's of Delaware - Quick Facts and Links<!img src="../graphics/newclr.gif" alt="New Item" align="middle">
Delaware "Medal of Honor" Recipients - Listing of all including some Biographies <!img src="../graphics/update.gif" alt="Updated Item" align="middle">
Delaware Historical Time Line
Delaware Regiment's in the Civil War - by Jack Pickett - ( My brother ) <!img src="../graphics/newclr.gif" alt="New Item" align="middle">
Delaware Civil War Memorial Project - Listing of Delaware's Soldiers and their final resting place
Delaware's Underground Railroad - History and Delaware Sites

<!A class=noline HREF="intrbio.htm" target="_blank">Delaware Biographies - Current & Past<!img src="../graphics/update.gif" alt="Updated Item" align="middle">

"Caesar Rodney" - One of Delaware's Heroes - Biography

"Thomas Macdonough" - One of Delaware's Heroes - Biography

"Thomas Garrett" - One of Delaware's Heroes - Biography

"John B. Maberry" - One of Delaware's Civil War Heroes - Biography

"Henry H. Lockwood, General" - One of Delaware's Civil War Heroes - Biography

"Thomas Alfred Smyth, General" - One of Delaware's Civil War Heroes - Biography





<!A class=noline HREF="wwii.htm">Delawarean's That Gave Their All:

Revoluntionay War - Listing Still In Progress <!img src="../graphics/newclr.gif" alt="New Item" align="middle">

Civil War - Listing Still In Progress <!img src="../graphics/newclr.gif" alt="New Item" align="middle">

World War I - Listing Still In Progress <!img src="../graphics/newclr.gif" alt="New Item" align="middle">

World War II - Complete Listing <!img src="../graphics/newclr.gif" alt="New Item" align="middle">

Korea - Complete Listing <!img src="../graphics/newclr.gif" alt="New Item" align="middle">

Vietnam - Complete Listing

MIA's from Korea and Vietnam - Complete Listing

Delaware Police Officers - Complete Listing

Delaware Volunteer Firefighters - Complete Listing





Delaware Baseball History - By John H. Duffy

Delaware Colonial Shilling - Photo

Delaware Ratifies the U.S. Constitution - December 7, 1787 - Document <!img src="../graphics/newclr.gif" alt="New Item" align="middle">

Delaware State Song with Music

Delaware & Eastern Shore Maryland Cemeteries Online Catalogue <!img src="../graphics/newclr.gif" alt="New Item" align="middle">

A Cross Country Murder - The story of the murder of Delaware Congressman Penington's daughters <!img src="../graphics/newclr.gif" alt="New Item" align="middle">

Fort Saulsbury - Delaware's Forgotten Fort





Coming Soon! - Articles I'm working on

<!br> <!A class=noline HREF="odessa/index.htm">Odessa on the Appoquinimink - History of a Delaware Colonial Town <!img src="../graphics/newclr.gif" alt="New Item" align="middle">
<!A class=noline HREF="../ushist/intrpres.htm">Delaware Small Town Histories - Quick Facts and Links
<!A class=noline HREF="church/index.htm">Delaware Historic Churches - Pre-1900 construction <!img src="../graphics/newclr.gif" alt="New Item" align="middle">
<!A class=noline HREF="vietnam.htm">Delaware Colonial Historical Time Line
<!A class=noline HREF="vietnam.htm">Delaware's Hall Of Fame - My Personal View <!img src="../graphics/newclr.gif" alt="New Item" align="middle">

Delaware Art Museum

Delaware Genealogical Society <!img src="../graphics/newclr.gif" alt="New Item" align="middle">

Delaware Historical Society <!img src="../graphics/newclr.gif" alt="New Item" align="middle">

Delaware Public Archives <!img src="../graphics/newclr.gif" alt="New Item" align="middle">

Fort Delaware

Hagley Museum & Library <!img src="../graphics/newclr.gif" alt="New Item" align="middle">

The Kalmar Nyckel - Delaware's historical "Tall Ship" <!img src="../graphics/newclr.gif" alt="New Item" align="middle">

Lewes Delaware Historical Society <!img src="../graphics/newclr.gif" alt="New Item" align="middle">

Odessa, Christmas in <!img src="../graphics/newclr.gif" alt="New Item" align="middle">

Old Swedes Church, Wilmington, De. <!img src="../graphics/newclr.gif" alt="New Item" align="middle">

Winterthur Museum & Library <!img src="../graphics/newclr.gif" alt="New Item" align="middle">

<!br>

Presidents of the Continental Congress of the United States - Quick Facts and Links <!img src="../graphics/newclr.gif" alt="New Item" align="middle">

Meeting dates of Continental Congress of the United States <!img src="../graphics/newclr.gif" alt="New Item" align="middle">

Who was truly the first President of the United States - An answer by facts <!img src="../graphics/newclr.gif" alt="New Item" align="middle">

American Revolution, Little Known Facts - Quick Facts

America's Heritage - Have You Ever Heard This Before?

Our Declaration of Independence

When States Became States - When states joined our Country <!img src="../graphics/newclr.gif" alt="New Item" align="middle">

American Soldiers & Sailors - Who Gave Their All in World War II - ( Includes below states plus more )

Delaware - Soldiers & Sailors Who Gave Their All in World War II - "Entire State Completed" - One Listing

Connecticut - Soldiers & Sailors Who Gave Their All in World War II - "Currently In Progress" - Listed by County

Maryland - Soldiers & Sailors Who Gave Their All in World War II - "Entire State Completed" - Listed by County

Maine - Soldiers & Sailors Who Gave Their All in World War II - "Entire State Completed" - Listed by County

New Hampshire - Soldiers & Sailors Who Gave Their All in World War II - "Entire State Completed" - Listed by County

New York - Soldiers & Sailors Who Gave Their All in World War II - "Two Counties Completed" - Listed by County

Vermont - Soldiers & Sailors Who Gave Their All in World War II - "Entire State Completed" - Listed by County

Wyoming - Soldiers & Sailors Who Gave Their All in World War II - "Entire State Completed" - Listed by County





E-Mail Russ Pickett
" Click Here "

" Or At: russpickde@comcast.net "

Page Originally Created:
January, 1995