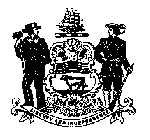 Delaware's Past Governor

March 21, 1890 - January 27, 1965


( All web links on this page are in "Blue" )
Clayton Douglass Buck, Sr. was born the son of Francis N. and Margaret Douglass Buck on March 21, 1890 at "Buena Vista" near New Castle, De.
Buck attended the Wilmington Military Academy from 1900-1902 and he graduated from Friends School in 1908. He spent two years at the University of Pennsylvania where he left to start working with T. Coleman du Pont as a supervisor on road construction in Sussex County. He left there to become the assistant Chief Engineer of New York State Highways where he worked until the outbreak of W.W. I.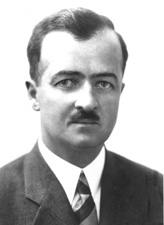 " C. Douglass Buck, Sr. "
After his military service he returned to Delaware and was appointed by Governor Denney as Chief Engineer of the Delaware Highway Department. During this time he married T. Coleman du Pont's daughter Alice who was a desdendant of Governor Nicholas Van Dyke.
In 1928 the Republican Party nominated him as their gubernatorial candidate with James Henry Hazel as his running mate. His Democratic opponent was Dr. Charles M. Wharton, a dentist from Dover whose running mate was Willard Boyce. Buck won the governership by one of the widest margins ever, 67%. But Governor Buck's term would not be easy as the depression was starting to get into full swing.
During Governor Buck's administration dial phones first came to Delaware, passenger ships from Delaware to Philadephia were halted, and the first downstate woman to be elected to the General Assembly, Estelle Tschudy of Smyrna, took her seat. The New Legislative Hall was occupied for the first time in January, 1933 and the Legislature ratified the 21st Amendment, the repeal of prohibition.
On October 18, 1933, Governor Buck called the Legislature back into session to consider borrowing money from the Federal Government. This discussion became a very hot topic with the main squabble being who was going to get relief from this money, upstate or downstate. In an unprecedented move, Governor Buck did something that no other governor had ever done; he dissolved the Legislature and told its members to go home. It wasn't long after that state employees, along with school teachers, took a salary cut. The Legislature was later called to return. The salaries for the state employees and school teachers was later restored in 1936.
After Governor Buck left office in 1937, he was nominated and elected to the U.S. Senate in 1942. In 1948, he ran for re-election against J. Allen Frear of Dover and lost. In 1953, Governor J. Caleb Boggs named Buck the State Tax Commissioner, a job he filled until 1957 when he retired from public life.
Governor Buck died on January 27, 1965 at the age of 74. He was interred in the Immanuel Church yard in New Caslte. His wife died in December, 1967 and was interred next to her husband. The Bucks had two children together, Clayton Douglass Buck, Jr. who later became the President of New Castle County Council, and a daughter Mrs. Dorcus Van Dyke Farquhar (1925-1978). Mrs. Buck had been previously married and had two children during this marriage, Paul Wilson (1915-1969) of Summerville, S.C., and Mrs. Alice du Pont Haible (1916-1969). "Buena Vista", the home of Governor Buck and the late Delaware Statesman John M. Clayton, was donated to the State of Delaware in the late 1960's.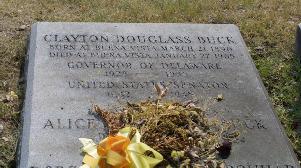 " Gov. Buck's stone "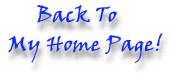 Email any questions or comments to:
Russ Pickett
Click Here
Last update: 7/15/2007