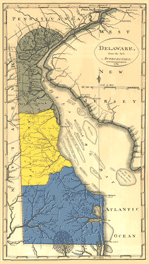 All along the Eastern Line of the Underground Railroad, there remain signs of those who passed secretly through. Delaware's Historic homes, barns, meetings and roads stand as a tangible legacy to the courage of those who escaped and those who helped them. Although many landmarks have unfortunately been razed in the years since the railroad operated, museums and historical organizations continue to collect and display what is left to evidence this time in history.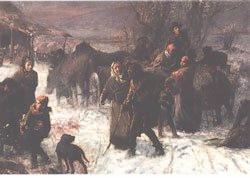 " The Underground Railroad "
by Charles T. Webber, 1893
Delaware, although technically a slave state, was a vital part of the Underground Railroad and it's legacy. The three counties of Delaware are a microcosm of the United States. The northernmost county, New Castle, is an urban and suburban industrial area; Wilmington, a city that is home to the world's largest chemical companies and credit card banks, represents a typical American metropolis, albeit on a somewhat smaller scale. Kent County lies in the middle of the state and straddles agrarian and industrial interests; the capital of the state, Dover, resides there. Sussex County is the southernmost county and is comprised largely of rural, farming interests.
It is not an accident that grass roots abolitionist movements began in both New Castle and Kent County Quaker meetings. With Lancaster County's pacifist Amish community, Chester County, Pennsylvania's Quaker strongholds, Kent and New Castle Counties' Methodist and Quaker populations and Philadelphia's progressive Anti-Slavery offices nearby, the Great Awakening met with enthusiasm in the region. Delaware became the bridge to freedom for fugitives and the site of the last attempt at capture for slave hunters.
The city of Wilmington, with "Thomas Garrett" - (click for bio), myriad seaman, stevadores, and willing conductors, served as the final stop to freedom before Philadelphia and New Jersey. After the second Fugitive Slave Law passed in 1850, requiring free citizens and lawmen alike to aid in the capture of escaped slaves in the free states, the city could not be seen any longer as the last stop before freedom, but an important resting point before the second leg of a very long journey to Canada.
Delaware's position as a true border state, in a political sense, cannot be denied in spite of the state's decision to cast its lot with the Union at the outbreak of the Civil War. Although Abraham Lincoln's support within the state of Delaware grew between the elections of 1860 and 1864 (from 24% to 48% of total ballots cast), his was not an overwhelming brand of support as the statistics attest. In fact, Lincoln recognized Delaware's unique situation and used it for a political litmus test in November of 1861.
President Lincoln proposed that the Delaware state legislature move to emancipate all of the state's slaves. In return, the federal government would reimburse slaveholders $500 for each slave set free. Because this proposal was never brought to a vote by the Delaware legislature, Lincoln's attempt at the use of diplomacy in the struggle to liberate slaves failed in Delaware and throughout the nation. As Lincoln had expressed to a Sussex County, Delaware slave holder, Benjamin Burton:
"If I can get Delaware to undertake this plan, I'm sure the other border states will accept it. This is the cheapest and most humane way of ending this war and saving lives."
The Delaware state legislature failed to pass a law abolishing slavery on two separate occasions. Both failures were by only one vote! In addition, for slave states like Delaware, Maryland, Missouri and Kentucky that sided with the Union, but remained slave-holding, the Emancipation Proclamation did not apply. For their loyalty to the Union, the slaveholders of these states were rewarded with the use of their slaves until the end of the war. Because of this decision the Underground Railroad in Delaware became stronger!
A corridor of courage stretched north from the eastern shore of Maryland through Delaware and on to Philadelphia. Swamps, marshes and thick forests provided camouflage for fugitives from slave catchers. Runaways faced many hidden dangers such as fatigue, hunger, insect-spread disease, poisonous snakes, wild animals and the possibility of drowning.
Delaware's waterways served as paths to safety when followed by runaways who stealthily avoided horse-trodden roads and pedestrian paths. Rivers like the Choptank, Nanticoke and St. Jones provided cover and the means to hide one's tracks. In a time when waterways were an excellent means of travel, rivers were used for commercial purposes. Some of that traffic could have been comprised of slave buyers and sellers as well as slaves themselves as they were transported throughout the south.
On the other hand, these same waterways were treacherous. Patty Cannon's gang in Sussex county trolled the rivers seeking slaves to capture. Some they sold back into slavery for profit, however those that they couldn't sell became part of one of the most blood curdling legends involving the Underground Railroad.
Patty Cannon, living in a house said to have straddled the border between Delaware and Maryland during the early 19th century, made a career of capturing and smuggling free and innocent black people and selling them into slavery. The gang she and several family members operated gained notoriety in the region for its cruelty, violence and ruthless dedication to its odious crimes. Cannon and the Johnson gang are said to have shackled their captives in Patty's attic or to trees on a small island in the Nanticoke River near the present-day sight of the Woodland Ferry in Seaford, Delaware.
Cannon, jailed in 1829 on four counts of murder, committed suicide (according to legend) in the jail in the Georgetown Courthouse's basement. It is thought that her remains were buried in a nearby Potter's Field with one important exception: what is thought to be Patty Cannon's skull is now stored in a hatbox at the Dover Public Library!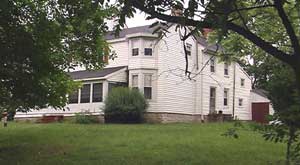 " Wildcat Manor, Lebanon "
(private residence)
The Choptank River, which originates south of Dover at the Maryland and Delaware borders, provided fugitives from Maryland's eastern shore with a route to the north - to the safe houses of Kent and New Castle Counties. The Nanticoke River, which flows south and eventually empties its tributaries in the Chesapeake Bay, could be followed from as far south as Vienna, Sharptown and Federalsburg, Maryland. Its main branch flows southwest of Salisbury and finds its origin in Kent County, Delaware near Harrington - not far from Camden, Dover, Odessa and friendly Quaker Meetings. The St. Jones River flows from northwest of Dover, Delaware through the heart of the state's capital and east to Bower's Beach, where it empties into the Delaware Bay. As it passed Wildcat Manor in Lebanon, Delaware, the St. Jones and the Wildcat Manor home provided many fugitives with a stopping point where they could safely regroup and press northward.
Many other homes in the area provided rest and sleeping points for slaves including the Cooper home in Camden and Longwood Farms near Camden.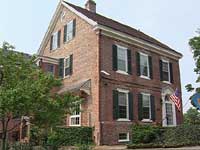 " Woodburn, Dover "
(Governor's House)
( Photo by: Russ Pickett - 2003)

"Woodburn" - (click to view website), now the Governor's House, is believed by many to be a stopping point also on the trek north. From 1825 to 1882 a Quaker family named Cowgill lived in this home. Daniel Cowgill, being a Quaker and having been convinced of the wrong, freed all his slaves and allowed them to meet in the great hall at Woodburn. The Georgian-style mansion was built by Charles Hillyard around 1790 and it would appear that the Cowgill's dug a secret underground tunnel that was used as a passage to escort slaves to the St. Jones River which runs directly behind. Boats would then carry slaves across the Delaware River to New Jersey, a free state or slaves would start to travel north towards Smyrna, Odessa and Middletown.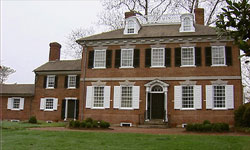 " Corbit-Sharp House, Odessa "
( Photo by: Russ Pickett - 2003 )

From Dover and Camden those that decided too, or had too, traveled mostly on foot headed for the towns of Smyrna then Odessa or Middletown. In Smyrna they were hidden at the Clearfield farm of Daniel Corbit. In Middletown they were greeted by John Hunn and hidden in his home, and in Odessa by William Corbit. In Odessa slaves were normally hidden in a loft in the Quaker Meeting House (see photo below) and possibly sometimes in the Corbit home itself. It is reported that Corbit hid runaway slaves in cabinets on the third floor.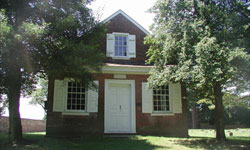 " Friend's Meeting House, Odessa "
( Photo by: Russ Pickett - 2003 )
From Odessa and Middletown they made their way north to the home of "Station Master Thomas Garrett" (no longer standing) in Wilmington, Delaware. They were now on the border of freedom!
From there they moved to the home of William Still in Philadelphia. William Still was a successful, confident merchant and a leader in the fight against slavery. Here slaves were cautioned that even though they were now in a free state they needed to move northward toward Canada. United States law, even in free states, still saw slaves as a masterís property, and bounty hunters are everywhere. He helped them get ready for another long stretch of travel.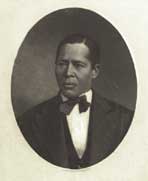 " William Still "
They then made the long trip through Pennslyvania and the Appalachian Mountains and most ended up in Rochester, New York.
The city of Rochester and the surrounding areas helped to play a leading role in the Underground Railroad movement. Rochester, which was conveniently located close to the Canadian border, served as one of the last stops in the Underground Railroad. Rochester was one of the last stops before fugitive slaves could for the first time in their lives be considered free men, upon their arrival in Canada.
There are numerous locations in the Rochester area that were used as safe-houses to safely shelter the slaves before they were placed on board boats (often on the Genesee river). The most common route used the 'lines' that led from Henrietta through Monroe County and into Rochester. Some of the better known 'stations' included: The Henry Quinby farm, the David H. Richardson's farm on East Henrietta Road, the Warrant farm in Brighton, now 1956 West Henrietta Road, the old Frederick Douglass home near Highland Park and the Harvey Humphrey house at 669 Genesee Street.
From Rochester they moved west toward Lake Erie. Once they crossed Lake Erie they were then free indeed!

Anyone that has information, research material or anything to add to this exciting chapter in Delaware's history are encouraged to "e-mail me".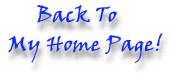 Email any questions or comments to:
Russ Pickett
Last update: 7/19/2008