(1831 - June 20, 1870)
Corporal, Co. C, 1st Delaware Infantry
Citation: Capture of flag


"Bernard McCarren" was born in 1831 in Ireland. When the Civil War broke out he enlisted in Co. H, 24th Pennslyvania Regiment of Captain Thomas A. Smyth. He was noted as being 5' 9" tall, light complexioned, blue eyes and sandy hair. When his three month enlistment ran out, he joined "Captain George Price's Co. C, 1st Delaware Infantry".

In September, 1861, McCarren was promoted to corporal. The 1st Delaware was then transferred to Fortress Monroe, Virginia where they fought in the Battle of Chantilly on September 1, 1862.

The 1st Delaware Regiment then found itself assigned with "General George B. McClellan" who was moving to intercept Rebel "Robert E. Lee" as he advanced into Maryland. They met at a place by the Antietam creek called Sharpsburg, Maryland.

After Antietam the regiment marched via Harper's Ferry to Fredericksburg, where it went into battle in December as part of the "3rd Division of General Winfield Hancock's 2nd Corps".

McCarren's deed of valor came on the third day of the Battle of Gettysburg. There the 1st Delaware Regiment was a part of "Lieutenant Colonel Thomas Smyth's 2nd Brigade, Brig. General Hays's 3rd Division of Major General Hancock's II Corps".

This day, July 3, 1863, the 1st Delaware was placed on Cemetery Ridge behind a short stone wall. About .9 of a mile in front the Rebels were gathering and preparing for what was to become known as "Pickett's Charge". Finally, after a long bombardment the solid gray line of 15,000 men came into view and advanced.

"Col. Thomas Smyth" ordered the 1st Delaware to hold their fire until the Rebels were only 50 yards away. Then "Open Fire!" was the command and the four lines of soldiers let loose with a volley. The deadly fire stunned the Rebels but they still kept coming and falling. Finally, the charge faltered some 40 feet in front of the Delaware men.

Regimental Commander "Lieutenant William Smith" led a countercharge as the 1st Delaware men jumped over the wall. Lt. Smith was later found dead with his sword in one hand and a captured flag in the other. Corporal McCarren was luckier than most as he captured the battle flag of the 13th Alabama and his fellow Delawarean Private Maberry captured the battle flag of the 7th North Carolina and both lived to tell about it.

McCarren received his medal one year, four months and 28 days after his heroic deed. He was on detached service at the time in Washington, D.C. where he was discharged in December of 1863. He promptly reenlisted and on May 6, 1864, he was wounded in the Battle of Wilderness. A musket ball was removed from his left scapula and he was hospitalized for 8 months. McCarren was mustered out of service on July 22, 1865, when he returned to Wilmington.

McCarren married Mary Ann Traynor before the war in 1855. They had two children who both died young. McCarren died at the age of 40 in 1870 from Dysentery and was interred in Wilmington's Old Cathedral Cemetery (next to the current Wilmington-Brandywine Cemetery) which has since been paved over for a new roadbed. A marker has since been placed in the Wilmington-Brandywine Cemetery in his honor.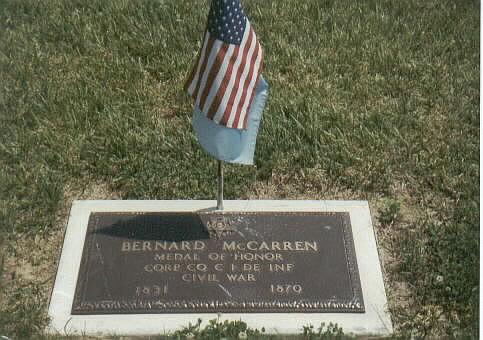 "Click Here" for Bernard McCarren's Find A Grave record.




Email any questions or comments to:
Russ Pickett by "Clicking Here"
Last update: 7/15/2007