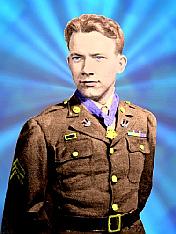 ( February 22, 1918 - April 25, 1943)
Sergeant, Company H, 60th Infantry Regiment
Citation: For conspicuous gallantry and intrepidity at risk of life, above and beyond the call of duty in action involving actual conflict.
View His Online Memorial
"Click Here"


William "Lloyd" Nelson was born in Dover, Delaware on February 22, 1918 the son of Mr. and Mrs. Frank C. Nelson. While "Lloyd" was very young his family moved to Middletown, Delaware where his father became a farmer.

Lloyd graduated from Middletown High School in 1937 and then attended and graduated from Beacom (Goldey Beacom) College in Wilmington, Delaware.

On January 9, 1941 Lloyd was drafted into the army and he was inducted at Camp Dix, New Jersey. After Basic Training he was assigned to Fort Bragg, North Carolina for additional training and as his duty assignment. On September 8, 1941, he came home on leave and married Rebecca Pyle of Wilmington, a young girl he had met during college.

After the news of Pearl Harbor broke across the country, Lloyd came home as a corporal and told his family that he was now assigned to a heavy mortar unit.

Nelson was part of the invasion force landing in North Africa (Operation Torch) on November 8, 1942 along with British forces. After securing the landing area Nelson's 60th Regiment pressed on to Oran and at a place called Station de Sened they caught an Italian battalion off guard. Nelson, now a sergeant, helped lay down such an effective mortar barrage, the entire battalion surrendered.

They then moved on to Maknassy and the little town of Sedjenane. There, outside of town, stood a mountain called Djebel Dardyss that surveyed the entire area. The Americans felt that to rid the area of Germans that mountain would have to be taken and fortified to help insure their success.

With the 2nd Battalion leading the way, Americans inched their way halfway up the mountain. The going was slow due to the thick undergrowth. There they waited till dawn. The Germans troops realized what the Americans had done in gaining a foothold on Djebel Dardyss and decided to stop their advance. During the dawn hours, the Germans began a thunderous counteroffensive with shells falling all among the Americans.

Soon the Germans started across the Sedjenane Valley toward the slopes of the Dardyss when "Sergeant Nelson" saw his opportunity. A forward observer for his morar group, he got out front exposing himself and called out for some mortar rounds among the Germans below. Gauging where the shells hit, he was able to zero in the mortar rounds on the enemy. After he had done this, he signaled for rapid fire and the stream of shells found their way to the advancing Germans pinning them down, scattering them, and breaking up the attack.

Soon however, the Germans opened up a barrage themselves. From all sides the Germans sent an unending stream of heavy mortar fire, along with machine gun and rifle fire, into the American lines. The Americans found themselves in a fairly hot spot.

With Germans gaining a foothold at the base of the mountain, "Sergeant Nelson" extended himself farther out in an increasingly exposed position, but he felt it was necessary in order to affect the deadly fire for his mortar crew.

Suddenly, whether it was a German grenade or a mortar round, the air above Nelson's head split apart with a violent explosion that silenced everything momentarily. When the smoke cleared, Nelson was lying still face down. Then, his senses returned and he found he could move. Instead of crawling back for a medic, he inched forward to an even more advanced position and continued to direct the fire of his section.

Time finally ran out for "Sergeant William Lloyd Nelson" for only 50 yards from the enemy lines, he died of his wounds.

Through his and other brave American's efforts, a great tactical advantage was given to the American forces at Djebel Dardyss. Three weeks later 275,000 German and Italian soldiers surrendered, thus ending Hitler's North African campaign.

Of the fourteen Delawarean's who won the medal only "Nelson" died in attaining it. "Lloyd's" remains were returned home where he was interred in the Wilmington's Silverbrook Cemetery. As time has passed a liberty ship, the Middletown National Guard Armory, a housing project at Fort Dix, New Jersey, a recreational center at Fort Lewis, Washington, and VFW Post #3792 were all named in his honor.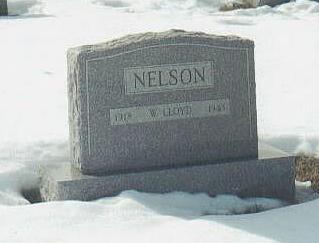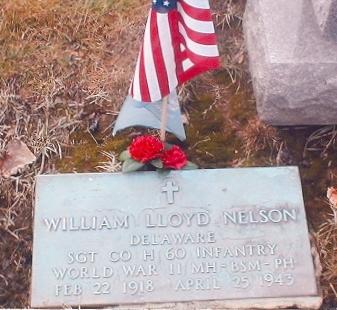 ( Photos Courtesy of Paul Cathell, Jr. )







Email any questions or comments to: Russ Pickett
Click Here
Last modified: 7/15/2007