( February 22, 1875 - March 2, 1944)
Private, Company I, 22nd US Infantry
Citation: Held a bridge against a superior force of the enemy and fought, though severely wounded, until the main body came up to cross.


"Charles Henry Pierce" was born February 22, 1875 in Cecil County, Maryland, the son of Charles W. Pierce. Pierce left his father's farm near Chesapeake City, Maryland and joined Company M, 1st Delaware Infantry on May 17, 1898 at the age of twenty-three to help his country in the war with Spain which had broken out on April 25th of that year. At the time of his enlistment he was described as 5' 6" tall, blue eyes, brown hair and a fair complexion.

The war was basically no contest and ended in a matter of months. Pierce was discharged on December 19, 1898, and less than a week later he enlisted in the regular US Army. He was assigned to the 22nd US Infantry and sent to Fort Crook, Nebraska.

As a consequence of the short-lived war, the United States not only got control of Cuba, but the Philippine Islands as well. An insurrection was being led in the Islands by Emilio Aguinaldo. Thus ensued a three year guerilla war involving 70,000 American soldiers at a cost of 175 million dollars.

On October 19th Major John Ballance, 13th Infantry, was placed in command of an advance guard of troops. Out in the front 500 yards was a group of scouts led by Sergeant Charles W. Ray. One of the twelve scouts was Private Charles Pierce.

As they approached the Rio Grande River the scouts saw a bridge which had had its planks removed to slow down the advancing Americans. On the other side of the bridge were about 200 enemy soldiers. Sergeant Ray led his scouts in a mad dash for the bridge as they attempted to cross on its stringers. The insurgents let loose with a volley of fire. Private Pierce was hit by a Remington bullet in the left thigh but refused to be taken to the rear. He insisted on staying with his buddies in defending the bridge.

The scouts were compelled to hold the bridge for quite some time before the main body arrived. By the end of the year Philippine resistance had finally been broken. On March 10, 1902, Pierce and Sergeant Ray were awarded the Medal of Honor.

Pierce appears to have made a career out of the Army and ended his career as a Lieutenant. He retired in the late 1920's or early 1930's. He died March 2, 1944 and was interred in Valhalla Memorial Cemetery in North Hollywood, California.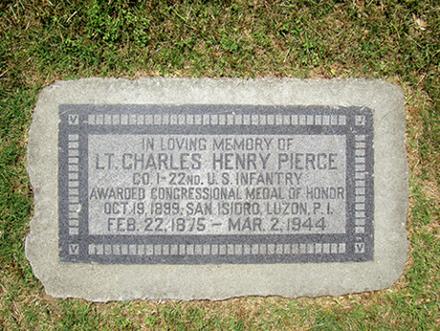 "Click Here" for Charles Pierce's Find A Grave record.



Email any questions or comments to: Russ Pickett
Click Here
Last modified: 7/15/2007