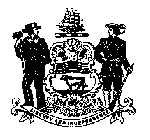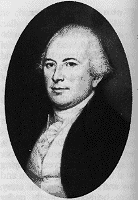 Delaware's Third Governor

& Colonial Leader


September 18, 1733 - September 21, 1798

George Read, the son of John and Mary Howell Read, was born in North East, MD on September 18, 1733. His father was a landholder of means and his mother was the daughter of a Welsh planter. The family moved to New Castle, DE when George was young. He later attended school in Chester, PA, as well as the Rev. Francis Alison's Academy at New London, PA. At the age of 15, he started reading with a Philadelphia lawyer.
In 1753, Read was admitted to the bar, and he began his own practice in Philadelphia. The following year, he journeyed back to New Castle and started a practice in his home town. In 1763, he married Gertrude Ross Till, the widowed sister of George Ross, like Read a future signer of the Declaration of Independence. They had three sons and a daughter.
While serving as the Crown Attorney General from 1763-74, he protested actively against the Stamp Act. In 1765, he began a career in the colonial legislature, which lasted more than a decade.
Read voted against independence on July 2, 1776. He was the only signer of the Declaration to do so, apparently either bowing to the strong Tory sentiment in Delaware, or believing reconciliation with Britain was still possible. It was his opposition to independence that caused "Thomas McKean" to call "Caesar Rodney" back to Philadephia to insure Delaware went on record for independence from England.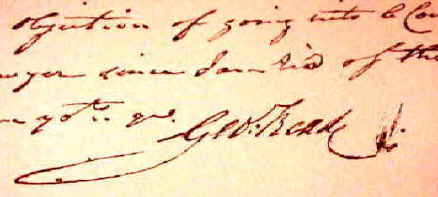 Signature of George Read from the Declaration of Independence
Read became the speaker of the Delaware Legislative Council in the same year, which in effect made him the Vice President (Lt. Governor) of the State. During the fall of 1777, the British took over Wilmington, DE and captured Delaware's President, "John McKinly. Since George Read was away in Philadelphia attending meetings of the Congress, "Thomas McKean", speaker of the lower house of Delaware, took over as acting President (Governor). This lasted only for a month until George Read returned from Philadelphia and took over the seat. He remained in the office until March 31, 1778, at which time "Caesar Rodney" was voted in as the 4th Delaware President.
Again, Read became an active member of the Delaware Legislative Council until 1779, when he had to retire due to health reasons. In 1782, he returned to the Legislative Council and served until 1788. He was a delagate to the Annapolis Convention held in 1786. He was also a member of the Constitutional Convention held in Philadephia in 1787, where he championed the rights of the small states.
From 1789-1793, Read served as one of Delaware's first two U.S. Senators along with "Richard Bassett". He resigned from the U.S. Senate to accept the post of Chief Justice of Delaware in 1793. He held that office until his death on September 21, 1798. He is interred in the Immanuel Episcopal Churchyard.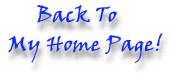 Email any questions or comments to:
Russ Pickett
Last update: 7/15/2007